How a Delaware Statutory Trust Works
Add a header to begin generating the table of contents
Industrial DST Property
This industrial DST property is a triple net lease commercial property located in the Midwest. The property consists of a 1,009,259 sq. ft. distribution facility currently occupied by Amazon as a fulfillment center. Amazon has a remaining lease term of 13.4 years, with two 10-year extensions.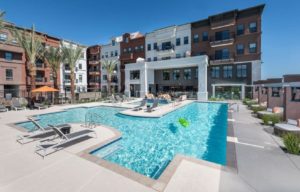 Multi-family DST Property
The DST is a stunning "Class A" multi-family community located in the southwest. Developed in 2018, the property is 94.9% occupied and consists of 256,628 rentable sq. ft. spanning across 5 acres. Nestled adjacent to a golf course, the community offers a unique live-work-play opportunity for residents.
Retail Net Lease DST Portfolio
The DST consists of 27 net lease essential retail properties located throughout the nation. The properties are 100% leased to 8 different high-quality tenants, all with proven track records and strong financials. The weighted average lease term of portfolio is 12 years. The portfolio offers a total of 430,757 rentable sq. ft.
Office DST Property
This office DST is a large 11-story absolute net lease office building located in the Midwest suburbs. The property is currently leased to Zurich American Insurance Company (a leading global insurance provider that insures 90% of Fortune 500 companies) with 25 years remaining and renewal options.
Chief Exchange Strategist, Partner at Real Estate Transition Solutions
Austin Bowlin, CPA is a Partner at Real Estate Transition Solutions (RETS), a national real estate investment advisory firm specializing in 1031 Exchange strategies and Delaware Statutory Trust investments. As Chief Exchange Strategist, Austin leads the firm's team of licensed 1031 Exchange advisors and analysts. His work focuses on tax analysis, developing tax-deferral strategies, legal entity re-structuring, co-ownership arrangements, 1031 replacement property options, and Delaware Statutory Trust investments.
Features 28 pages with rules, tips, examples, and more.